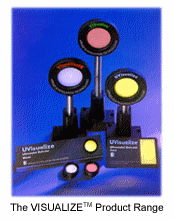 space
The VISUALIZE™ line of phosphor targets provide optimum performance and safety for engineers, scientists and laser users. VISUALIZE™ targets address the problems of beam visualization for component alignment and profile measurements for ultraviolet (UV), visible (VIS), and near infrared (NIR) lasers and light sources.
space
All products in the VISUALIZE™ line are offered in three different formats:
space
Laminated "credit card" style - most cost-effective format - suitable for low power lamp and laser use.
25 mm target disk and clip on wand - for higher power applications and where frequent component positioning is required.
Post-mountable target disk - can be provided with choice of mounting post.
space