Easy handling of small optical parts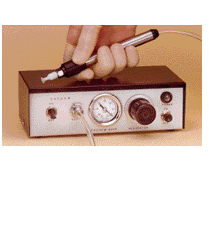 Features:
Rotating hand held wand
Solid DelrinTM vacuum cups
Flexible coil hose
Right angle wand fits under the microscope
Adjustable vacuum
Increased productivity with decreased cosmetic rejects during assembly and inspection.
space
The Roto-WandTM is perfect for handling small and delicate optics in assembly, coating or Quality Assurance. Manually rotating wand allows for cleaning, painting and accurate placement without exposing sensitive optical surfaces to fingerprints or chipping.
space
The unit includes a powerful adjustable internal vacuum pump and uses factory input air or nitrogen. In addition, the Roto-WandTM reduces cleaning and handling time considerably while eliminating hand soreness caused by tweezers or other unsuitable tools. The unit accepts cups ranging from 1mm to 10mm. Non-standard vacuum cups available.
space