Ronchi Rulings, Grids & Targets
High Quality Chrome Patterns on Glass, Film or Paper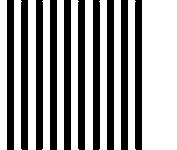 Features:
space
Variety of standard and custom Ronchi rulings on glass and photographic film or paper
Very high quality
Deposited chrome patterns on glass, film or paper substrates
Grids, targets, reticles & other patterns for measurement and calibration also available
space
Ronchi rulings are equal bar and space square wave targets, having very high contrast ratio and edge definition. They are available as chrome on glass, or on a variety of photographic films or papers. Ronchi rulings are available in several standard as well as custom sizes. Additionally grids, targets, reticles and other patterns are also available.
space