Optics Preparation and Assembly Station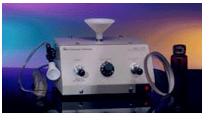 Features:
Integrates cleaning, handling & assembly of precision optics
Increases Productivity & Quality
Reduces cosmetic rejects
space
space
Applications:
Assembly of multi-element lenses
Cleaning of optical elements
Painting edges
Disassembly of optical systems
Cleaning for cosmetic inspection
Loading coating racks and fixtures
space
The Lens HandlerTM Model LCS-002, integrates the cleaning, painting and installation of optical elements into one smooth, continuous cycle.Increase productivity of coating, assembly and QA processes. Handling of lens elements is reduced. Cleanliness is easier to maintain. Cosmetic performance is improved. Training and cross-training is simplified.
space
An optical element is secured by vacuum on a rotating Delrin® spindle thus freeing the operator's hands for delicate work. Speeds can be varied from 40 rpm to 200 rpm. The vacuum pincette allows transfer and precise placement of optical elements without exposing sensitive surfaces to fingerprints and chipping. A wide range of tooling accepts diameters from 1 mm to 300 mm. Custom inquiries are welcome.
space