Active Fringe Stabilization by Path Length Compensation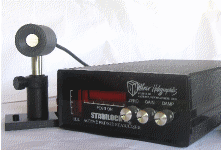 space
Features:
1000:1 Dynamic Range
l/20 wave Locking Stability
DC-500 Hz Frequency Response
Bimorphic Mirror with 10 microns Travel
space
Stay on the Fringe!
Does your interferometric or holographic system have the jitters? Does your application require long exposure times? Is it extremely sensitive to environmental changes? Active fringe control with path length compensation may be necessary to achieve total stability. Contact us for more information.
space